It's about that time of year again!
The CVCS will be hosting their Annual General Meeting on Friday, September 14th from 6-9PM at the Columbia Valley Centre.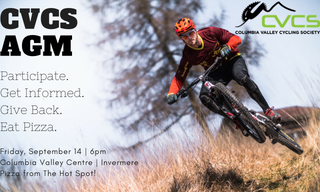 We will be going over the going over a wide range of topics including:
Mount Swansea Upgrades
Status on Trail Development in the Valley
Youth Programs
Winter Grooming Program – meet the SnowDog!
Trail Usage Statistics
Trail Maintenance
2019 Planning
As always, the AGM is open to all CVCS members.  If you're not already a member, you can easily join here!
Hopkins Harvest has also generously helped out by providing some of their absolutely AMAZING pizzas from The Hot Spot!  If you haven't already tried one of their pizzas, you need to rethink your decision making process.